[cs_content][cs_section parallax="true" separator_top_type="none" separator_top_height="50px" separator_top_inset="0px" separator_top_angle_point="50″ separator_bottom_type="none" separator_bottom_height="50px" separator_bottom_inset="0px" separator_bottom_angle_point="50″ style="margin: 0px;padding: 45px 0px;"][cs_row inner_container="true" marginless_columns="false" style="margin: 0px auto;padding: 0px;"][cs_column fade="false" fade_animation="in" fade_animation_offset="45px" fade_duration="750″ type="1/1″ style="padding: 0px;"][cs_element_headline _id="4″ ][/cs_column][/cs_row][cs_row inner_container="true" marginless_columns="false" style="margin: 0px auto;padding: 30px 0px 0px;"][cs_column fade="false" fade_animation="in" fade_animation_offset="45px" fade_duration="750″ type="1/2″ style="padding: 0px;"][x_slider animation="fade" slide_time="5000″ slide_speed="3000″ slideshow="true" random="false" control_nav="false" prev_next_nav="true" no_container="true" pause_on_hover="true" ][x_slide]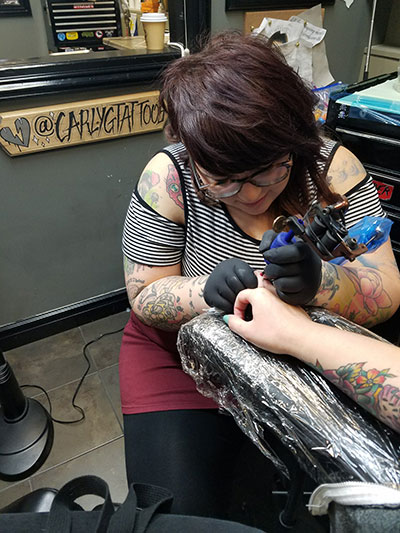 [/x_slide][x_slide]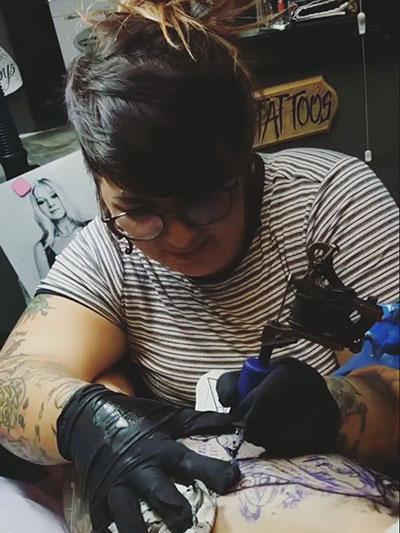 [/x_slide][x_slide]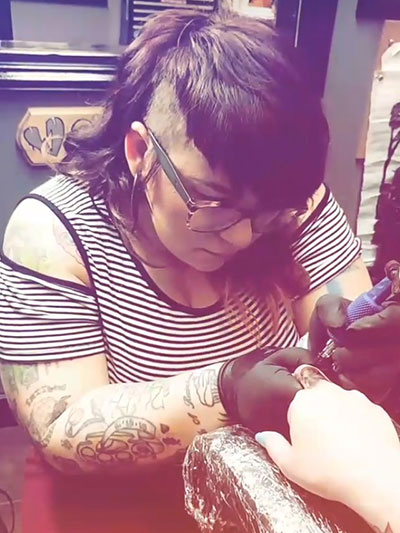 [/x_slide][/x_slider][/cs_column][cs_column fade="false" fade_animation="in" fade_animation_offset="45px" fade_duration="750″ type="1/2″ class="cs-ta-left" style="padding: 0px;"][cs_text style="font-size: 21px;"]
[x_image type="none" float="right" src="/wp-content/uploads/2017/09/small_artwork.jpg" info="none" info_place="top" info_trigger="hover"]Carly Grainger is a New Jersey based Tattooer that makes art with the unique, expressive intent to share it and capture it on people forever.
Breaking into the travel scene, she is expanding from her local residence in Central New Jersey, going around the U.S. conventions. Carly is known for her diverse portfolio in multiple styles, but specializes in blackwork, dot work, realism, and watercolor/painterly styles.
She came into tattooing with the love for American and Japanese Traditional along with a background in Fine Arts and Digital Graphics. This comic nerd is a marvel fan who loves to paint, draw foodie tattoos and tap-dance. Her art comes from her passion to create, grow, and learn.
"The experience from each piece made for the individual is the best way to get to know a person". She will encourage her clients to be open to her suggestions and process that allows her to have the most creative outlook to each piece.
[/cs_text][/cs_column][/cs_row][cs_row inner_container="true" marginless_columns="false" style="margin: 0px auto;padding: 0px;"][cs_column fade="false" fade_animation="in" fade_animation_offset="45px" fade_duration="750″ type="1/1″ style="padding: 0px;"][x_button size="global" block="true" circle="false" icon_only="false" href="/portfolio/" title="" target="" info="none" info_place="top" info_trigger="hover" info_content=""]VIEW PORTFOLIO[/x_button][x_gap size="250px"][/cs_column][/cs_row][/cs_section][/cs_content]